Long gone are my days of wearing tank tops on the trail. With all of the time I spend outside, all of that sun exposure really adds up. Between painful sunburns, visible aging, and my concern over skin cancer, protecting my skin when I'm outdoors has become a much bigger priority as I've gotten older.
Rather than constantly needing to lather up with sunscreen, which gets expensive and can be loaded with chemicals, I've opted to simply cover up. Over the years, I've tried a number of long-sleeved sun protection shirts that are designed to be lightweight and breathable, making them a great option for hiking and other outdoor activities even when it's warm and sunny.
Here is a round-up of the best sun protection shirts for women to help you minimize your sun exposure when you're outside on those sunny days.
---
Patagonia Capilene Cool Daily Hoody
Best Sun Protection Hoody for Hiking
What we like: quick-drying and breathable, super comfortable, holds up for years of wear without piling or loose threads
What we don't like: I've noticed discoloration of the sleeves due to dirt build-up over time
The Patagonia Capilene Cool Daily Hoody is my all-time favorite sun protection shirt for women. I own several colors and rotate through them when I travel in my van. It's a go-to for me no matter the climate, especially when I hike.
Made of recycled polyester and spandex, it is quick-drying and very breathable. With the soft, lightweight fabric, I find it extremely comfortable for hiking and hanging out at camp or even sleeping in at night. The hood is a nice feature as it provides added sun protection on your neck and ears without making you hotter.
While this shirt has odor control, I do find that it can develop a stink, but usually only after several days of wear and that's really the case for any of the shirts with odor control listed here.
As far as durability, these shirts last a long time. I've had mine for years and haven't experienced any piling or loose strands, although I always wash my clothes on the delicate cycle and run the dryer on low.
Like other Patagonia products, this shirt is made of 50-100% recycled material, fabrics are bluesign approved, and the shirt is sewed in factories where workers are paid fair wages.
REI Co-op Sahara Shade Hoodie
Best Budget Sun Protection Shirt
What we like: affordable, super comfortable for hiking and everyday wear, longer tunic-length, sleeves have thumbholes
What we don't like: the material is on the thicker side so we wouldn't recommend for hot-weather activities
The REI Co-op Sahara Shade Hoodie is an all-around favorite here at Bearfoot Theory and is a great budget-friendly sun protection shirt. It's buttery soft and comfortable with a loose yet flattering fit.
The shaped hem is longer in the front and the back (kind of like a tunic) making this a great sun protection shirt to wear with leggings. We love the crossover style opening on the neck that provides extra sun protection and looks nice as well.
This shirt also has thumb holes and covers your hands really well (the fabric goes all the way to my knuckles) which is great since our hands tend to get forgotten about when it comes to sunscreen.
This sun protection shirt is slightly warmer and thicker than Patagonia's Cool Capilene daily hoody so we don't recommend it for hiking in hot temperatures. But, because it's thicker, it makes a pretty great lightweight base layer.
It's perfect for cool, sunny days on the trail and for lounging at camp and is cute enough for everyday wear too. It's so comfy that we even like wearing it on road trips and for travel.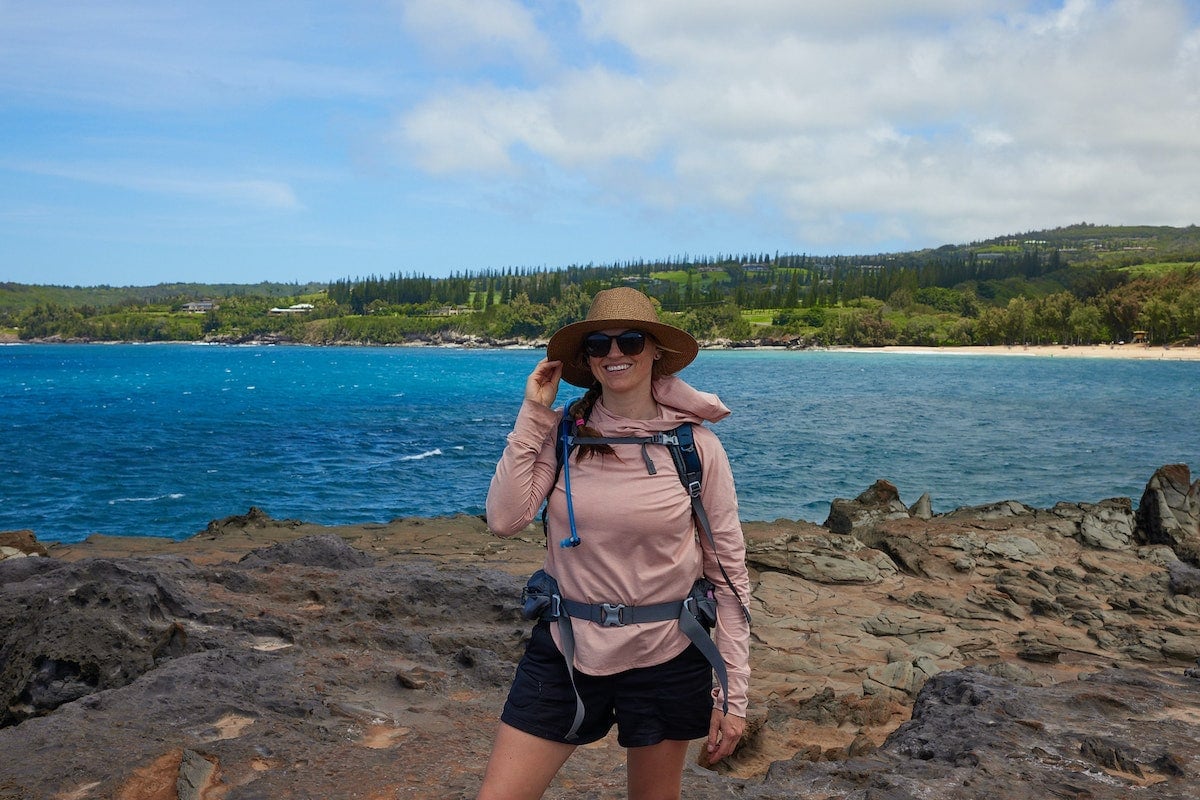 Outdoor Research Astroman Long Sleeve Sun Shirt
Best Button-Up Sun Protection Shirt
What we like: super lightweight and breathable, hidden zip-up pocket on the right hip, easy to wear from trail-to-town
What we don't like: light colors are slightly see through if you're wearing a dark colored bra
Since having a baby, I've started wearing more button-up shirts because they are easier to breastfeed in. The Outdoor Research Astroman Long Sleeve Sun Shirt is one of my favorite sun protection shirts with buttons that I've tried.
It's one of the most lightweight sun protection shirts on this list (after the Outdoor Research Echo below), so if you run hot, this shirt would be a great choice for ultimate breathability.
Lighter colors provide UPF 30, while darker colors are rated to UPF 50+, so it will protect your skin during long days in the sun. It has a pocket on the chest as well as a hidden zip-up pocket on the right hip, perfect for storing money or a credit card.
Made of a nylon blend, it has a soft, stretchy feel and fits true to size. Out of all of the shirts on this list, this one can most easily be classed up if you want to go from the trail straight to town.
Carve Designs Cruz Rashguard
Best Sun Protection Shirt for the Beach
What we like: keeps you cool when it's wet, high-neckline and quarter zip for additional coverage, flattering cut
What we don't like: material is thicker so it's not great for hiking or strenuous activity
When you're at the beach, a sun protection shirt gives you much longer protection than sunscreen, which tends to quickly wash off and can have harmful impacts on aquatic and marine life.
The Carve Designs Cruz Rashguard is one of the best sun protection shirts for women who want to stand up paddle board, surf, and snorkel. I own this shirt in two different colors and any time I'm going on a beach vacation, I throw both of them in my suitcase. It was absolutely a staple on my last trip to Hawaii.
With the cinching on the sides, I find this shirt to be super flattering. It's also got a high neckline (with a zipper) which provides a little extra skin coverage compared to some of the other shirts on this list. I wear a large in this shirt and I'd recommend sizing up if you want a more relaxed fit.
My favorite thing about this rashguard is that after I get out of the water, it continues to keep me cool as it dries, which is great for hanging out in the hot sand. Once it dries, it's a little thicker than the other sun protection shirts on this list, so I wouldn't recommend hiking far in it.
Free Fly Women's Bamboo Shade II
Best Sun Protection Shirt for Everyday Wear
What we like: soft material is great for lounging around camp, made of eco-friendly bamboo, sleeves have thumbholes
What we don't like: doesn't wick moisture well, need to hang dry after washing
The Free Fly Bamboo Shade II is one of my favorite sun protection shirts for daily wear and lounging around camp. Made primarily of bamboo, it's ultra soft and one of the more environmentally friendly sun protection shirts on this list. I love the neutral colors this shirt comes in and find they go well with almost anything.
The shirt runs long and fits fairly loose which is nice for those who don't prefer form-fitting clothing. I typically tuck it in since I have a short torso. One of the best features is the thumbholes which help keep your hands covered – an area that I often forget to put sunscreen on.
I don't find this shirt to wick moisture all that well so it's not the best choice for activities where you really work up a sweat. Another downside is you are supposed to hang it to dry in order to prevent shrinking and piling, which I find to be a bit of a hassle.
Outdoor Research Echo Hoodie
Best Technical Sun Protection Shirt
What we like: most lightweight shirt on our list, performs well in hot weather, ponytail hole in the hood, sleeves have thumbholes, flattering cut
What we don't like: holds stink a bit more than the other shirts on this list
The Outdoor Research Echo Hoodie is the most lightweight sun protection shirt on for women on this list at less than 4 oz making it suitable for hot temps (like the Patagonia Cool Capilene). It's also sweat-wicking and quick drying making it a great fit for hiking, climbing, and other high-exertion outdoor activities in the sun.
Like all good sun protection shirts, this one has thumb holes, and a good amount of stretch that allows for plenty of movement. And the women's version has a ponytail port in the hood – a unique feature we don't often see.
This shirt is a bit more technical looking than some of the others on this list so, so you might not wear it out on the town…but it's super functional for any sunny day outdoor adventure and that's what matters most. Plus, this sun protection top is made from 100% recycled materials which we're all about.
I will say that after wearing this for a couple of weeks, I've noticed the odor control isn't quite as good as the Patagonia cool capilene. This just means it needs to be washed a little more frequently.
Costa Long Sleeve Venture Performance Shirt
Best Sun Protection Shirt for Water Sports
What we like: sleeves have thumbholes, longer length, stretchy material
What we don't like: no hood
This Costa sun protection shirt is similar to the Patagonia Cool Capilene daily shirt but with a couple of key differences. Also made of polyester and spandex, this Costa shirt offers UPF 50+ and is a little thicker than the Patagonia. If the temperature is a bit cooler or if it's breezy, but I still want to cover up, this is a good choice.
A key feature of the Costa LS Venture Performance shirt is the thumb holes. If you are going rafting or kayaking, I love that this shirt covers up a decent portion of your hands, making it my favorite choice for active water sports. I often forget to put sunscreen on my hands, especially if I'm wearing long sleeves and don't need to lather up my arms. These thumbholes ensure that on those days, my hands are protected.
Finally, this shirt is longer and stretchier than the Patagonia. With the scalloped hem on the sides, some might say it has a feminine cut. However, I sized up for a looser fit.
Do you have a favorite sun protection shirt for women? Any questions about these products? Let us know in the comments!
The post Best Sun Protection Shirts for Women in 2023 appeared first on Bearfoot Theory.