Biking the Hiawatha Trail on the border of Idaho and Montana is an adventure that should be on every biker's bucket list. With beautiful and rugged mountains, 9 train tunnels, and 7 trestles suspended over the forest, the Hiawatha is one of the most scenic and unique biking trails in the country — and certainly one of the best in the Bitterroot Mountains.
Biking the Hiawatha is usually done from the top down, making for a one-way 15.1 mile trip with a convenient bus shuttle waiting for visitors at the bottom. If you're looking for more adventure, start from the bottom for a 30-mile roundtrip ride and take it easy on the downgrade for the second half.
Like most bike trips, you'll need some preparation to have a great time. I biked the trail this past summer and loved it, so in this post, I'm sharing everything you need to know to bike Idaho's Hiawatha Bike Trail.
Ready for the Route of the Hiawatha Bike Trail? In this guide, you'll find everything you need to know about planning a successful bike trip through this famous rails-to-trails route.
Where Is the Hiawatha Trail in Idaho?
The Route of the Hiawatha Bike Trail runs from Pearson, Idaho to East Portal, Montana along an abandoned railroad trestle. It's in the Idaho Panhandle National Forest and while it's technically public property, it's managed by the nearby Lookout Pass Ski Area which sells tickets and rents bikes, helmets, and everything you'll need to complete the ride.
This bike trail has been named a "Hall of Fame" trail by the Rails-to-Trails Conservancy, one of only 15 other bike trails in the country with this status — and it's easy to see why. The route weaves through the rugged Bitterroot Mountains through train tunnels and trestles with great views of forested peaks, deep valleys, and cold mountain streams.
Since the trail follows the old Milwaukee Road train trestle, you'll find the trail is moderate with very few obstacles.
---
Best Time to Bike the Hiawatha Bike Trail
The Hiawatha Bike Trail opens on Memorial Day in late May and typically closes in mid-September. July is the most popular month to bike, and of course, the trail is much more popular on weekends. It's open from 8:30 a.m. to 5:00 p.m. PST and it's important to note the time zone. You'll cross the time zone from Mountain Time to Pacific Time when biking from the top-down in the first tunnel, which crosses under the Idaho-Montana border.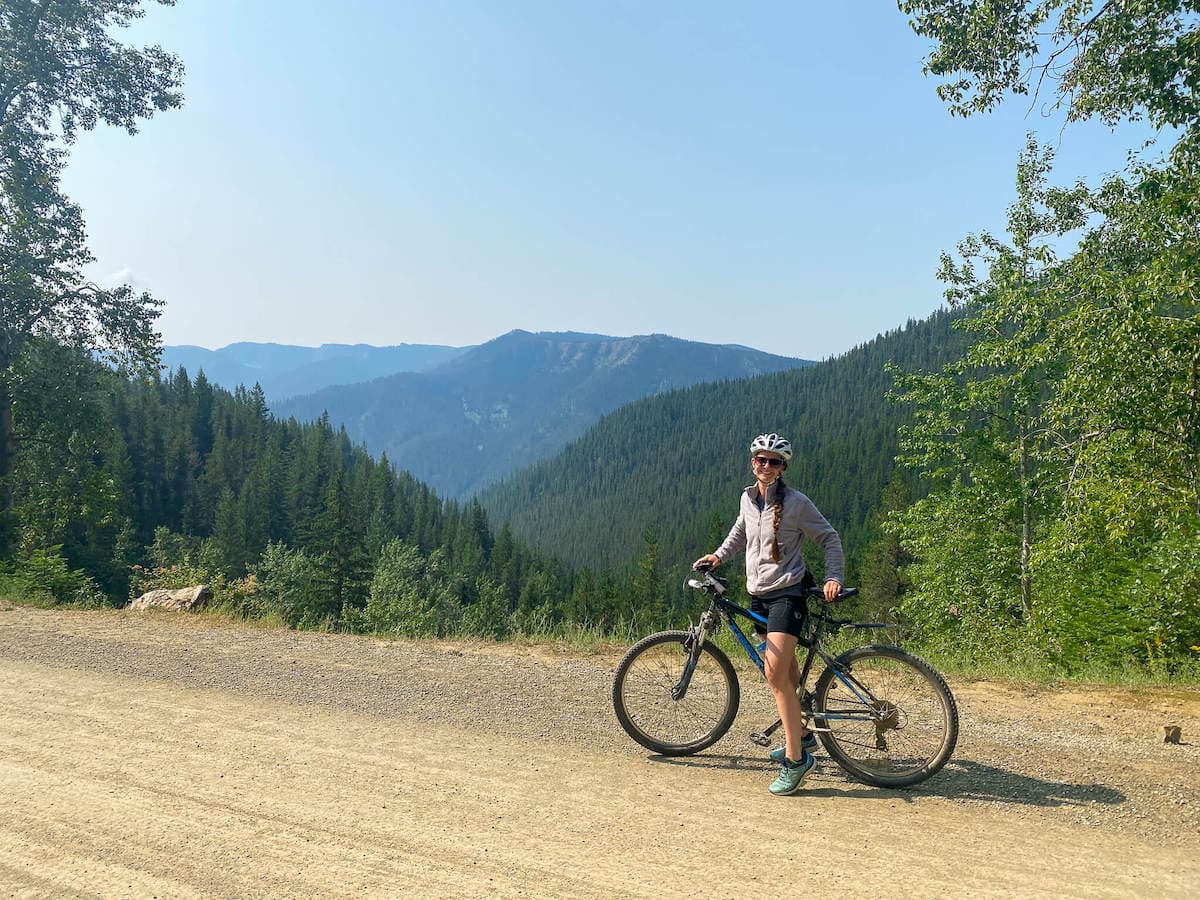 ---
Hiawatha Bike Trail map
---
Popular Hiawatha Bike Trail Routes
There are two main routes you can take to complete the Hiawatha Bike Trail. The official, most popular route starts at the East Portal Trailhead in Montana and follows the trail 15.1 miles down to the Pearson Trailhead in Idaho. Most bikers then take a bus shuttle back to where they started. On average, most bikers take 2-3 hours to complete this route including stops for photos.
The second route is double the length: bikers will start at the bottom of the trail in Idaho at Pearson Trailhead, bike 15.1 miles to the top of the trail at East Portal Trailhead in Montana, then turn around and bike back down to the beginning. This there-and-back route is 30.2 miles total and is for bikers that aren't afraid of a long uphill ride for the entire first half of the trip. If you're looking for a more strenuous bike ride, this is the route for you!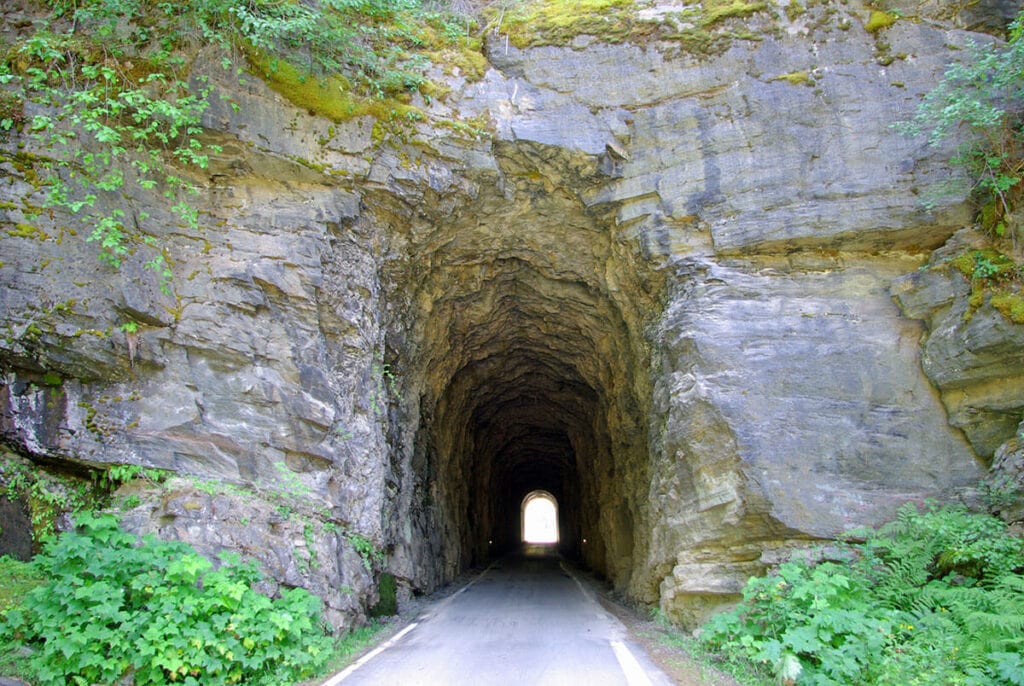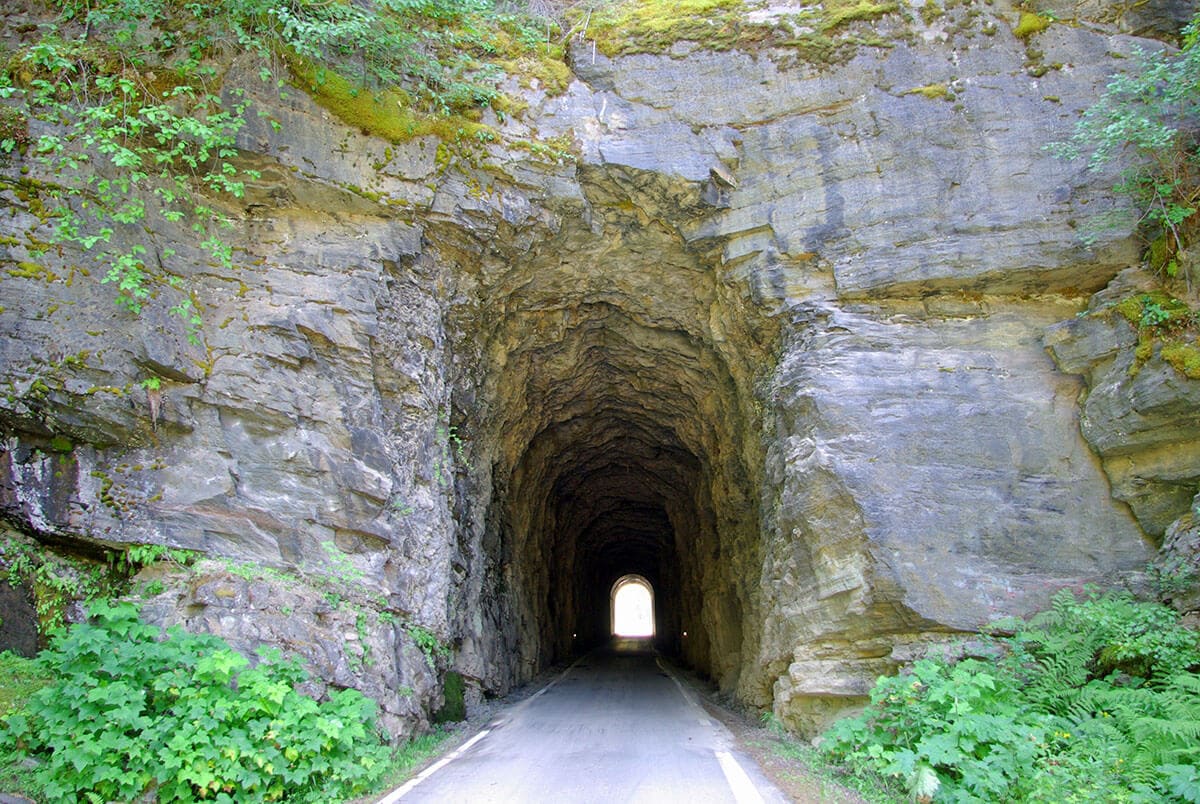 ---
Tickets, Bike Rental, & Transportation for Biking the Hiawatha Trail
Visitors can purchase tickets from Lookout Pass Ski Area or at the trailheads (bring cash). Prices for adults are $15 Monday-Thursday and $30 Friday-Sunday. You can get a $2 and $3 discount, respectively if you make a reservation in advance. Rates for Friday-Sunday include both a trail and shuttle pass. If you'd like a bus shuttle pass Monday-Thursday, that will cost an additional $15 per adult (with a $2 discount if you make a reservation).
Ticket prices for kids ages 5-12 are $10 Monday-Thursday ($9 with a reservation) and $20 Friday-Sunday (which includes a bus shuttle pass; $18 with a reservation).
Renting a bike from Lookout Pass Ski Area is simple, but be advised they're not in great shape. You'll want to double-check that you can shift and brake with ease before leaving. Rental costs are $40 for an adult comfort bike, $35 for an adult standard bike, and $27 for a child standard bike. They also have tag-a-longs, burley trailers, and other specialized bike types if you need one. Many nearby bike shops also offer rentals for the trail as well.
Most visitors drive to Lookout Pass Ski Area to pick up their ticket the morning of their ride, then drive to the East Portal Trailhead to park their car and start the ride. If you're renting a bike, they'll even shuttle it to the trailhead for you.
After biking to the bottom of the trail, the bus shuttle brings visitors back up the route to a parking lot just below the St. Paul Pass Tunnel where visitors will bike back up the 1.6-mile tunnel to finish in the East Portal Trailhead.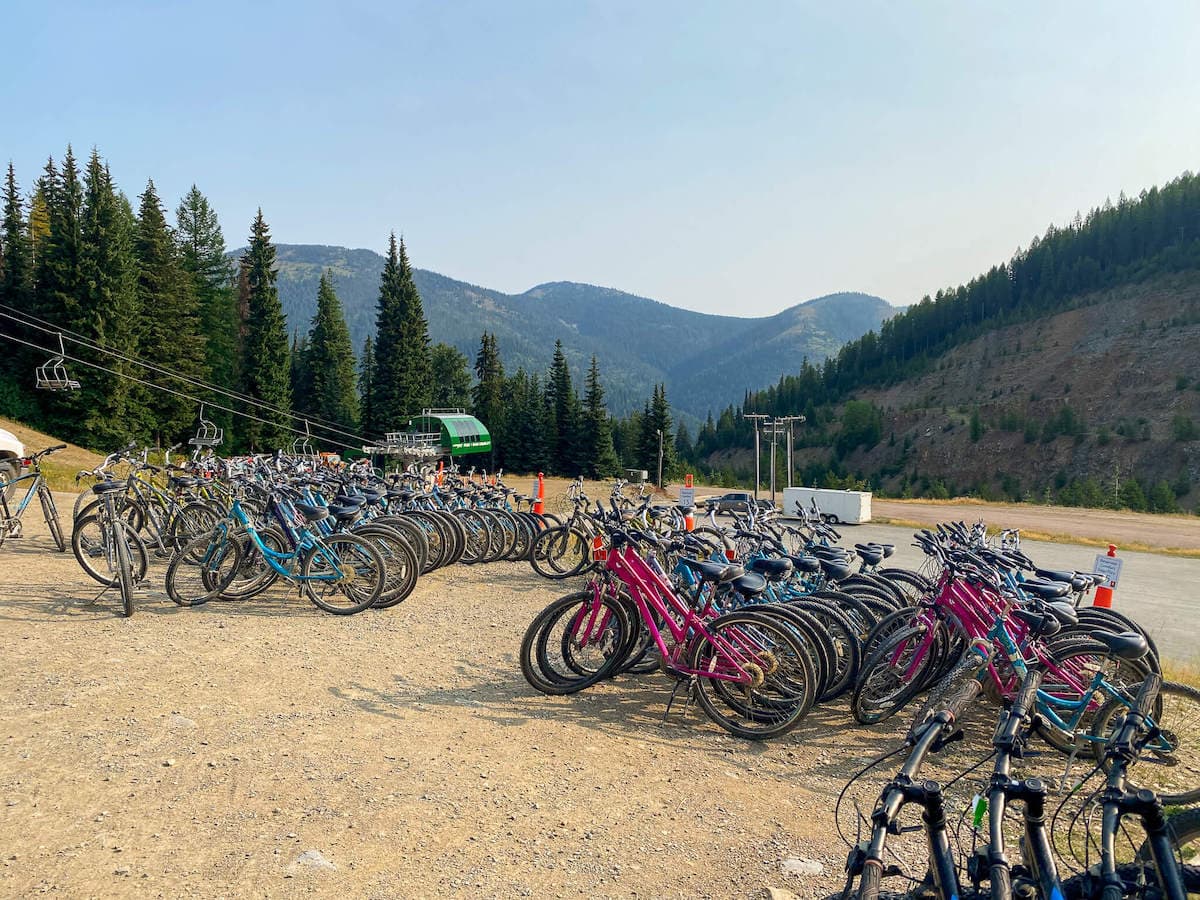 ---
Biking the Hiawatha Trail: Top-Down Route
I biked the Route of the Hiawatha in August 2021 doing the simple downhill route. We rented our bikes from Lookout Pass Ski Area, drove to the East Portal Trailhead, and pushed off from the parking lot to immediately find ourselves in the first and longest tunnel, the Taft Tunnel (also called St. Paul Pass Tunnel). It takes a moment or two for your eyes to adjust to the darkness, so be sure to have your lights turned on before you enter and plenty of space around yourself so you don't bump into others.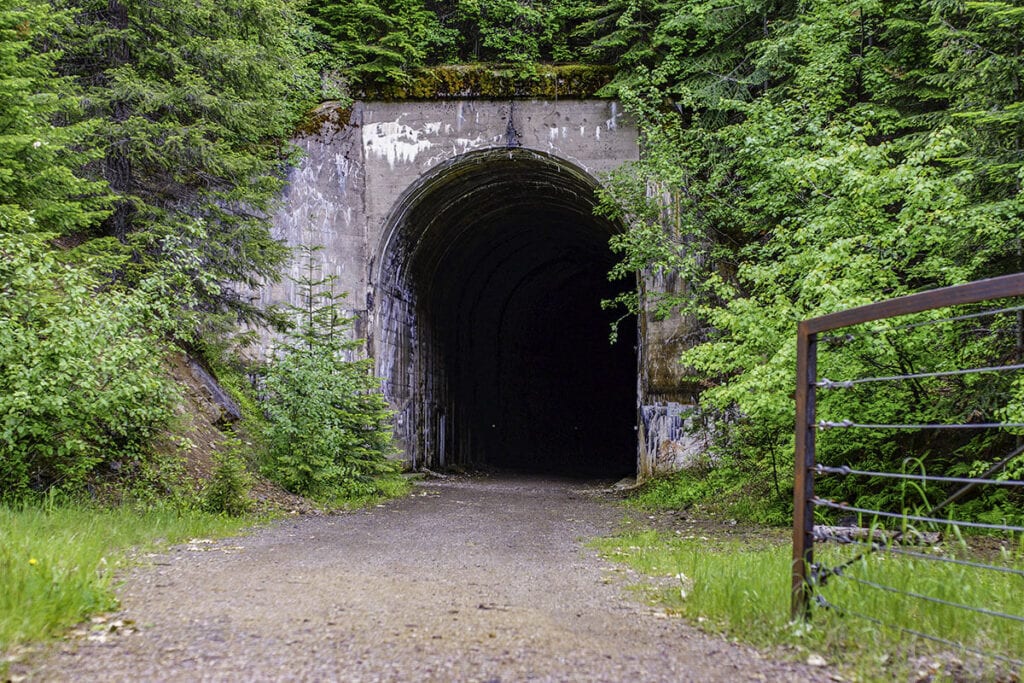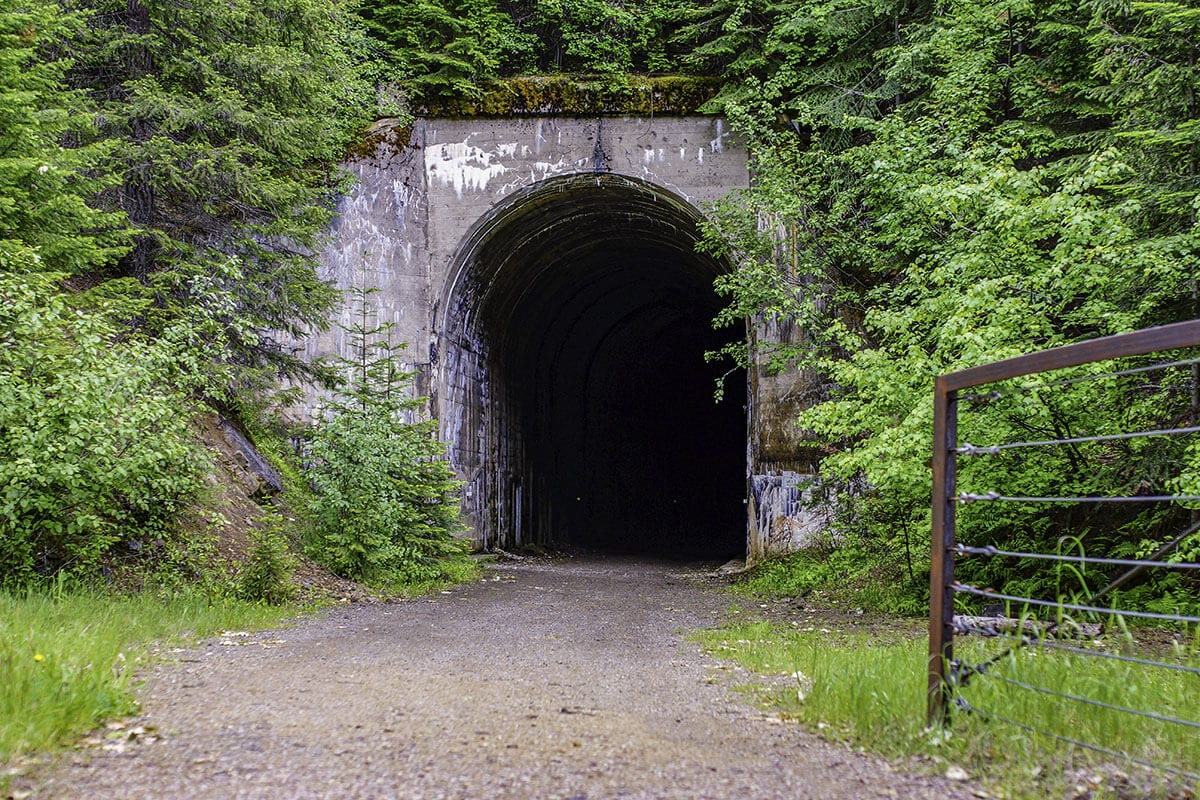 After getting thoroughly chilled and enjoying the echoes of the tunnel, we emerged to find a gorgeous waterfall immediately on our right. After stopping to snap a few pictures, we continued down the trail to enjoy the unique scenery of trees, mountains, and blue skies.
We biked downhill through 8 more tunnels — but to be honest, the first one is by far the most fun. Traversing the 7 trestles is just as much fun as the tunnels because they range from 75 to 175 feet above the ground. If you're scared of heights, be aware: while each trestle has large guardrails, the wooden walkways on the sides do have an inch of space between the planks, which can give visitors a rush if they're scared of heights.
We took our time enjoying each tunnel, trestle, and historic sign along the trail, and often stopped to take photos at overlooks — there are a lot of them! The views are great the entire way down and the parking lot at the bottom even has a snack booth to tide you over until your next meal. We took the bus shuttle back near the top but weren't lucky enough to spot a pair of moose that can occasionally be seen from the road. The bus dropped us off just below the St. Paul Pass Tunnel, so we got back in the saddle, rode through the tunnel back to the Pearson trailhead parking lot, and finished the ride.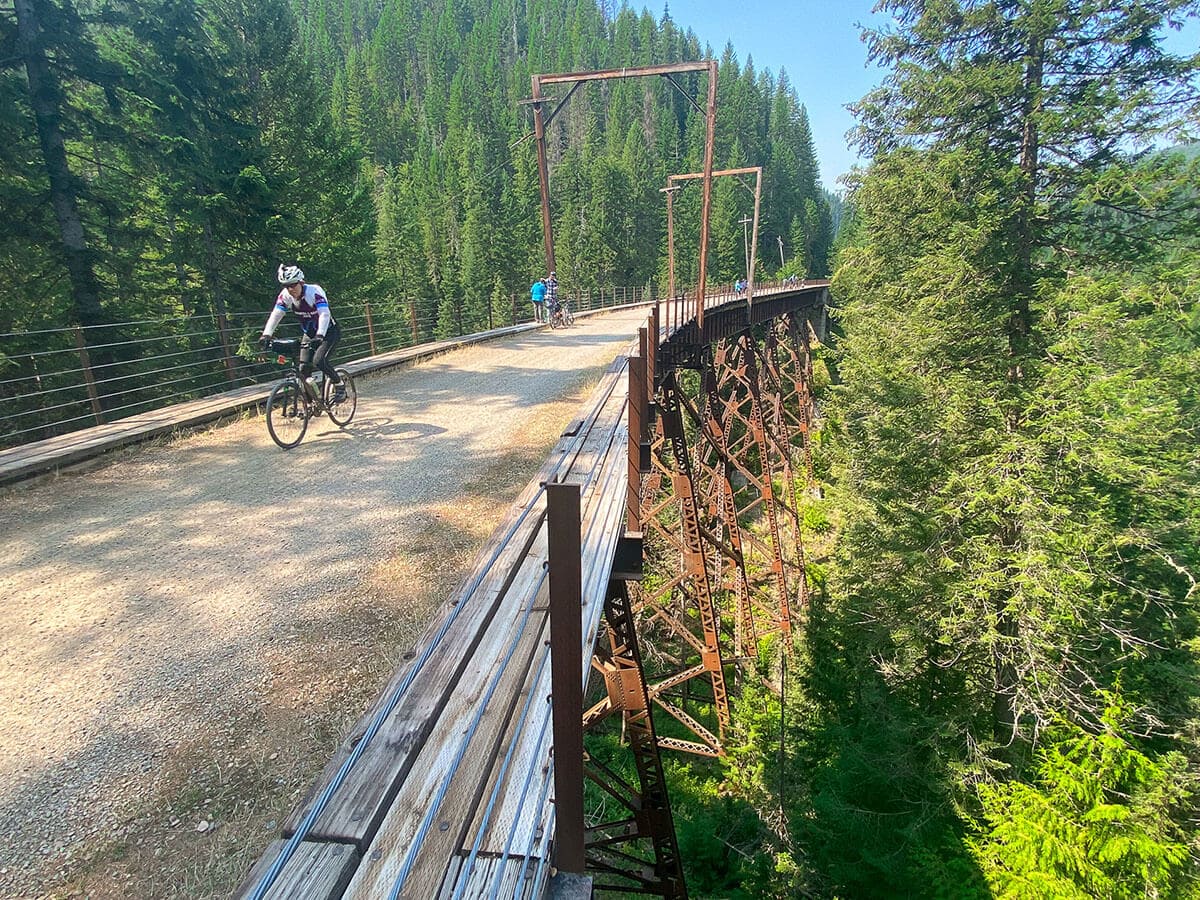 ---
What Gear to Bring for the Hiawatha Trail
Preparing for the Hiawatha Bike Trail isn't too different than preparing for other bike rides, but having a light is essential for navigating the pitch-black tunnels. Nothing ruins a trip like forgetting necessary gear, so be sure to pack the following items on your ride:
Flashlight
With 9 dark tunnels along the route, it's mandatory to have a flashlight or bike light on the front your bike so you can see. It's also recommended to have a blinking red light (and/or reflectors) on the back of your bike so riders can see you from behind. The NiteRider Swift comes with both front and rear lights.
And while it's not required, I recommend bringing along a headlamp so you can see the rock walls and ceiling while you bike through the tunnels — it's well worth it!
Helmet
It goes without saying that this should be a standard safety item every time you bike. With dark tunnels, occasionally muddy and slippery trails, and the remoteness of this bike route, it's extra important.
Becky, our behind-the-scenes assistant, and avid biker recommends the Smith Convoy, which is affordable and has enhanced MIPS protection.
Bike
You can bring your own bike or rent one from Lookout Ski Area. Adaptive bikes, tandem bikes, and Class I e-bikes (pedal assistance but no throttle) are allowed on the trail. The Forest Service does not allow Class 2 or 3 e-bikes on the trail.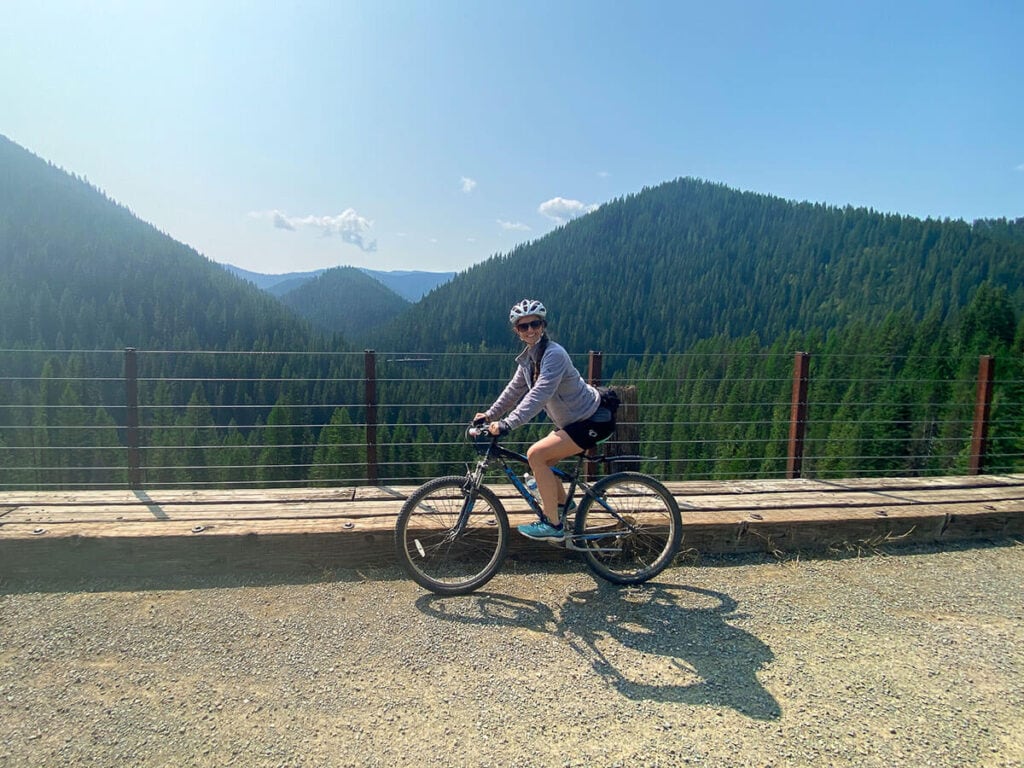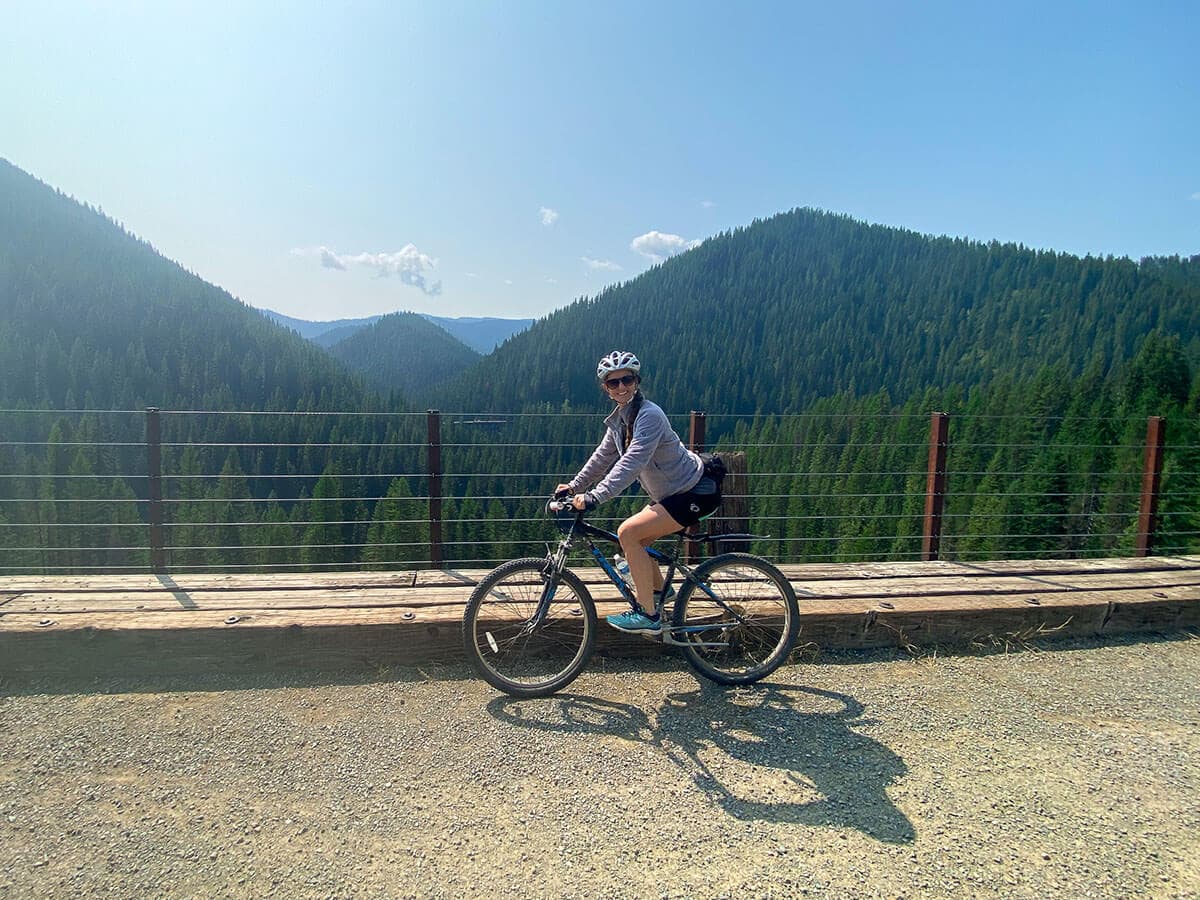 Layers
The tunnels consistently stay 47 degrees year-round and it may take you 10-20 minutes to get through the first 1.6-mile St. Paul Pass Tunnel. Having a proper jacket or heavy layer to keep you warm through these cold stretches is highly recommended. Kristen's go-to choice for a warm outer layer is the Patagonia Nano-Puff Jacket, which comes in a men's version as well.
Optional: Fender
The trail can get muddy after rainfall and it's common for the ceilings of the train tunnels to drip into small mud puddles on the trail that are hard to see in the dark. Many visitors finish the trail with a muddy back — so if you'd like to stay clean, consider adding a fender to your bike for this ride to stay clean and dry. The Portland Works Origami Rear Fender can easily be snapped onto the rear of almost any bike.
---
Where to Eat & Drink After Biking the Hiawatha Trail
Most visitors base their journey out of historic Wallace, Idaho, a mining town that now caters to bikers and other tourists to the area. While it's a small town, there are still great options for dining.
Wallace Brewing Company
Located in downtown Wallace, this brewery has some of the most interesting beers I've ever had. While their Vindicator IPA is the most popular, they also have an India Pale Lager which is pretty hard to find. The 1910 Black Lager has a great smoky taste, the Redlight Irish Red Ale is crisp and crushable, and the Strong Ale is malty and toasted. Don't worry — they have flights so you can try them all!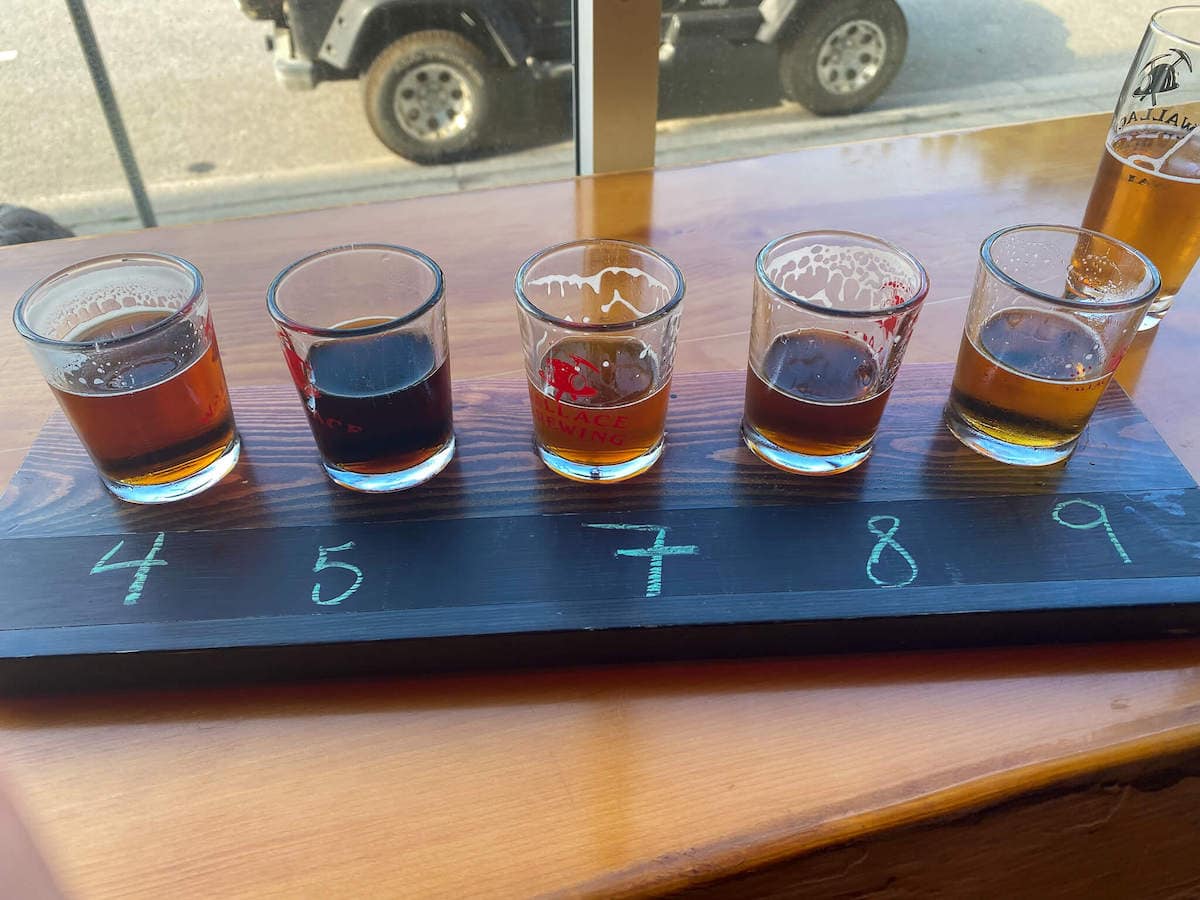 City Limits Pub & Grill
If you're like me, classic American bar food sounds the best after a day outdoors. The menu here is large enough that most everyone can find something they'll enjoy. As the name suggests, this restaurant is just outside the city limits, but Wallace is small so it's definitely walkable from downtown.
Blackboard Cafe
If you think rural mountain towns don't have great food, you'd be wrong. Blackboard Cafe is open for evening meals from 5-8 and serves amazing Italian food with great service. There's homemade pasta made from scratch, great salads, an excellent wine list, and ribeye and cheeseburgers for anyone that's not feeling Italian food. Highly recommend it!
---
We hope this Hiawatha Bike Trail Guide helps you plan an incredible trip! Discover more great outdoor adventures in Idaho on our Idaho blog posts page.
Do you have anything to share that we missed or any questions about planning a Hiawatha bike trip? Share your experience, tips, and questions in the comments below.
The post How to Bike Idaho's Hiawatha Trail appeared first on Bearfoot Theory.