E-bikes are a super fun way to explore the outdoors, especially if you're new to mountain biking or intimidated by longer and more challenging rides. The pedal-assist motor gives you a little extra boost on the uphills while still requiring you to put in some effort. If you're curious about mountain biking, but not sure you're ready for the stamina it requires, give an electric mountain bike a try. Guaranteed you'll have a blast! It's important to note, though, that e-bikes are not allowed on many trail systems throughout the US because they're considered motorized vehicles. That being said, there are a handful of e-bike trails and e-bike friendly destinations that are definitely worth checking out. Most of these areas are on multi-use public lands like BLM and Forest Service, but currently, it's up to land managers to determine whether e-bikes are allowed on trails.
Recent government regulations will make e-bike access on public lands even more universal, but it may take several years for those policies and regulations to take effect. So until then, Becky shares the best places to ride your electric mountain bike right now. Don't have an e-bike yet? Check out our review of Rad Power Bikes.
Ready to get rolling? Here are 7 of the best e-bike trails and e-bike friendly trail networks throughout the U.S.
Map of the Best E-Bike Friendly Trails
Best E-Bike Friendly Trails in the U.S.
1. Post Canyon in Hood River, OR
Post Canyon is located just outside of Hood River, Oregon and it offers some of the best mountain biking in the state with loamy dirt and well-maintained trails. And the best part? The trail system is completely e-bike friendly! Riders will find a little bit of everything here including jump lines, flowy downhill descents with bermed turns, and twisty cross-country singletrack. The majority of the Post Canyon terrain is on Hood River County Tree Farm which is run by the Hood River County Forestry Department. Always check trail status before you ride since Post Canyon is subject to wet and muddy conditions.
2. Hartman Rocks in Gunnison, CO
I recently discovered Hartman Rocks on a mountain bike road trip through Colorado and I was blown away by the trail system there. Not only is the region beautiful and the trails super fun, but there's also free dispersed camping and it's e-bike friendly! Located on a bluff above Gunnison, Colorado, Hartman Rocks is a popular destination for a variety of outdoor enthusiasts including climbers, mountain bikers, dirt bikers, hikers, and more. The singletrack network is a mix of long cross-country rides and technical rocky terrain. It's the perfect place for e-bikers to practice their skills.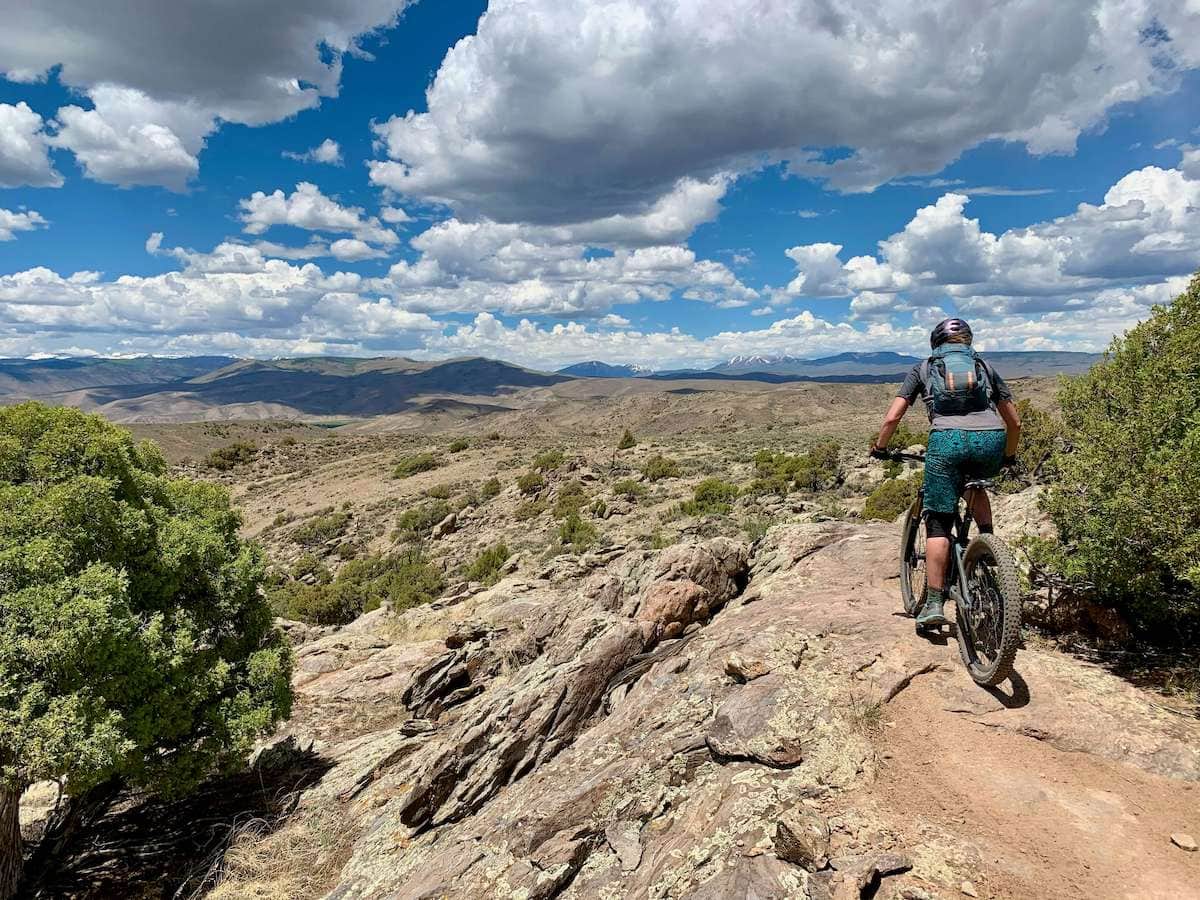 3. SkyPark at Santa's Village in Skyforest, CA
A peculiar name for a mountain bike park, SkyPark at Santa's Village is a mountain biker's playground and one of the few bike parks around the country that allows e-bikes. This outdoor adventure park is located about an hour and a half outside of Los Angeles in the San Bernardino Hills and is open year-round for mountain biking (weather permitting). With over seven miles of trail suited for all levels of riders from beginner to pro, SkyPark is the perfect place to practice skills and more importantly, have a ton of fun! The downhill trails are accessed by pedaling up a fire road, so having an e-bike is a big advantage for SkyPark if you plan on doing a full day of riding. Expect perfectly groomed trails, manmade features like wooden ramps, wall rides, drops, bermed flow tracks, and jump lines for all levels.
If you don't have your own e-bike, head to the demo shop and grab one. Electric mountain bikes are available on a first-come-first-serve basis and have a two-hour demo limit.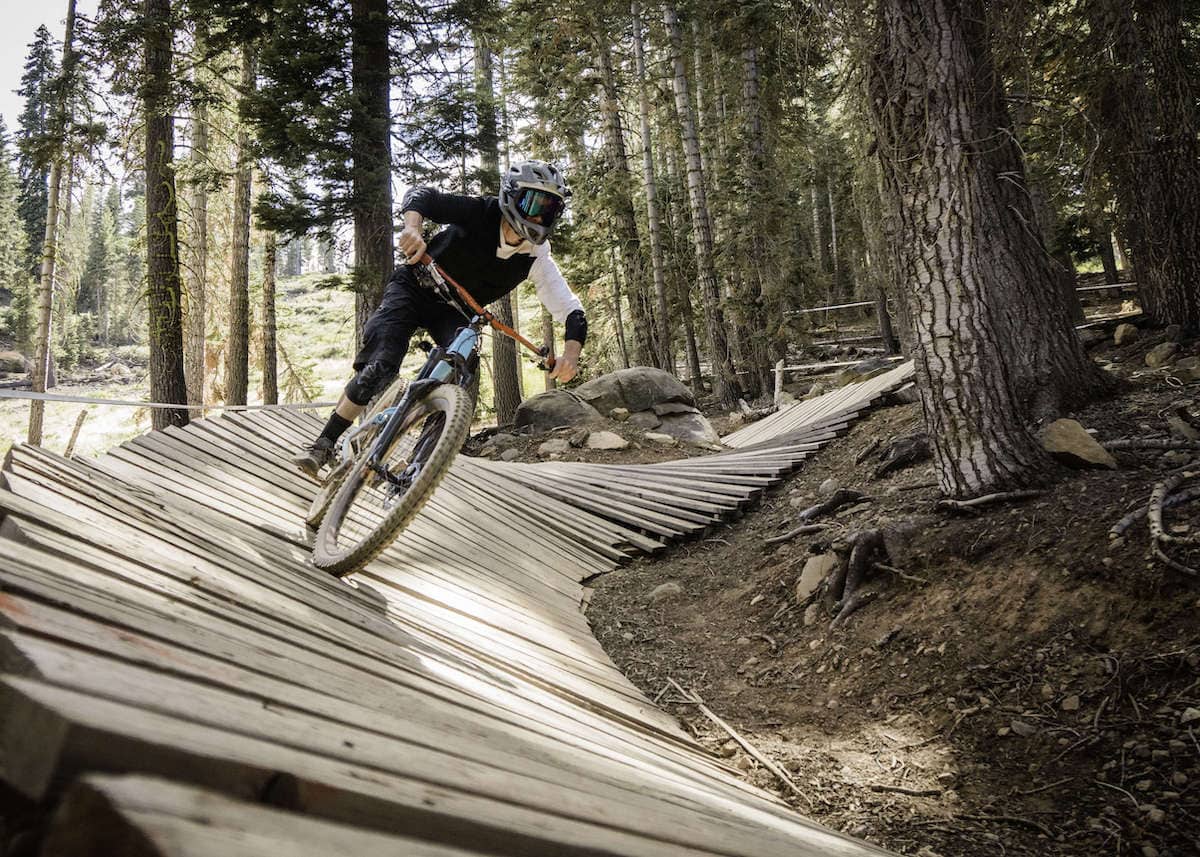 4. Bentonville, AR
The town of Bentonville, Arkansas recently declared itself the Mountain Biking Capital Of The World and if that sounds like a surprising claim to fame to you, spend a week there and you'll see why. Over the past few years, trail builders in Bentonville have developed dozens and dozens of miles of purpose-built mountain bike trails in and around town, and all of them are open to e-bikes. It is truly an impressive endeavor and they show no signs of letting up on building new trails! There are big cross-country loops, jump lines, skills parks, flow tracks, and so much more. If you're looking for an all-in-one mountain bike destination that is e-bike friendly and family-friendly, look no further than Bentonville, Arkansas.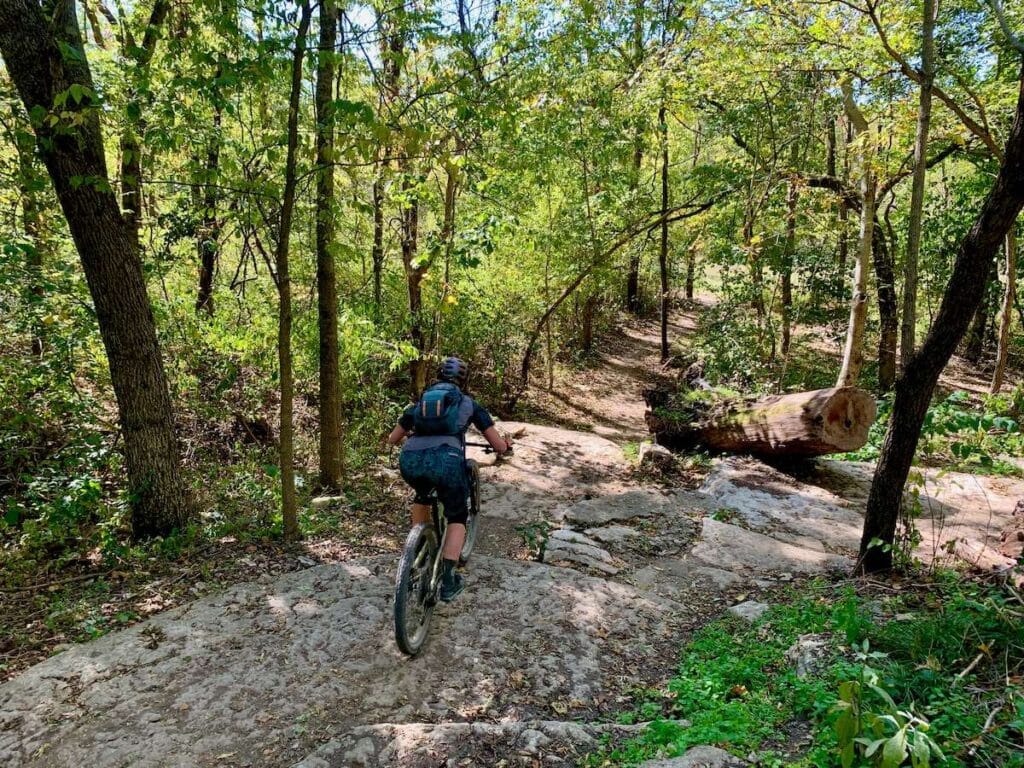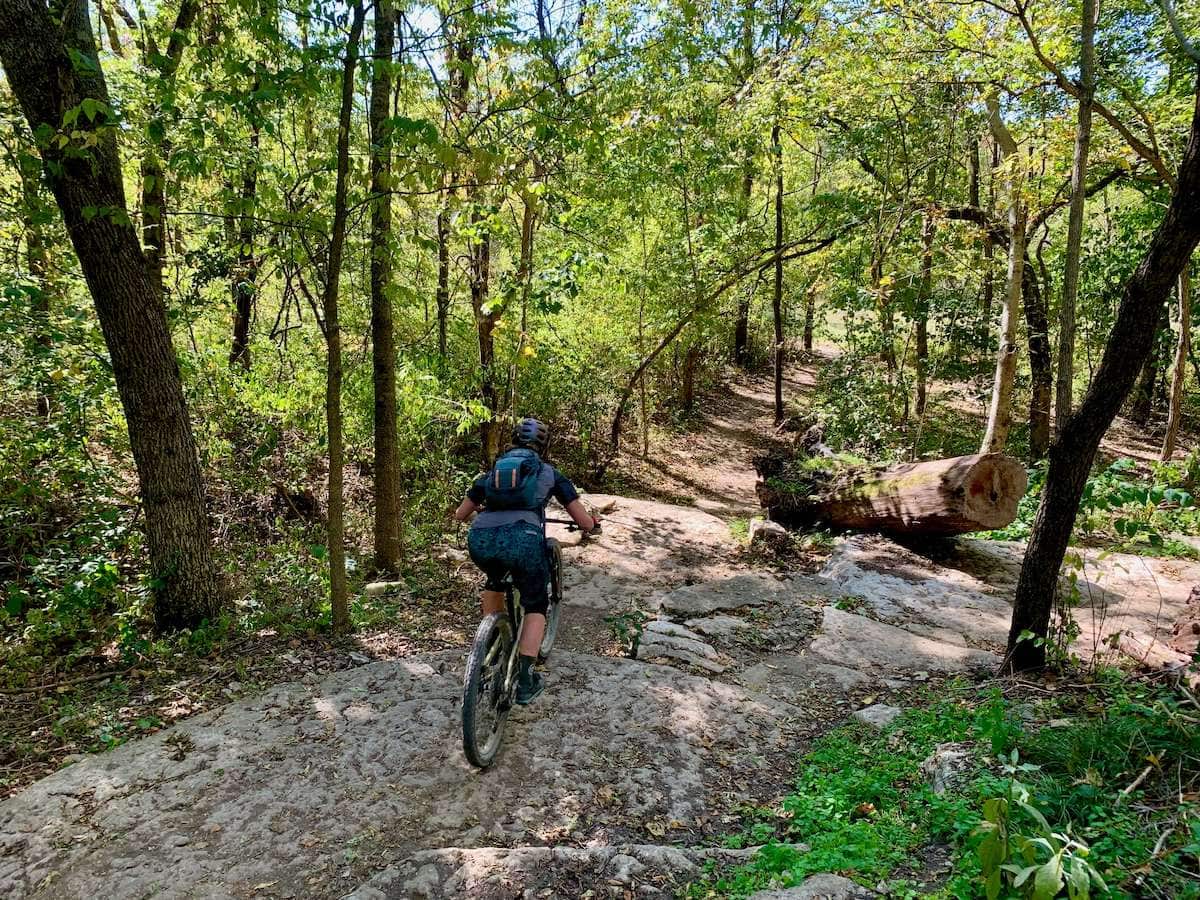 5. Mammoth Bike Park at Mammoth Lakes, CA
Mammoth Bike Park is my home bike park and I'm proud to say that it welcomes e-bikers! It's one of the very few lift-served bike parks in the US that allows electric bikes to be ridden on their trails. There are a few ways to experience the 80+ miles of singletrack at Mammoth Mountain by e-bike: you can choose to ride the gondola or chairlifts to the top of the mountain and then cruise back down on your e-bike or you can purchase a pedal-pass and explore the vast lower network of trail on your own. Either way, you are guaranteed amazing views and incredible riding. If you're looking to rent an e-bike at Mammoth, head to Footloose Sports and pick up a trail map while you're there.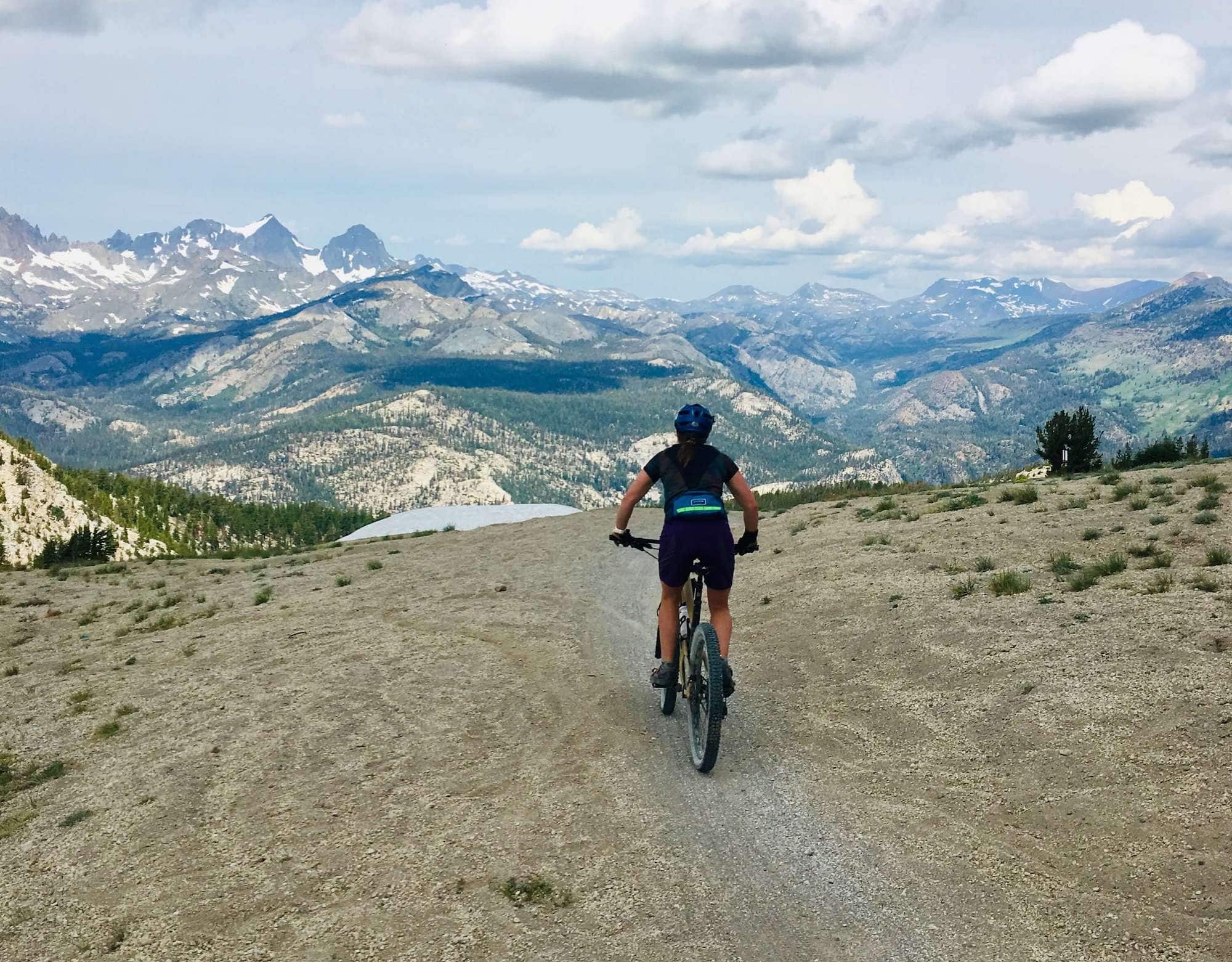 6. Downieville, California
Downieville is home to one of the most popular and well-known rides in California (if not the whole US!) – the Downieville Downhill. This 15-mile route is a shuttled ride that starts from the top of Packer Saddle and ends in the tiny town of Downieville. It covers a variety of terrain including technical rock gardens, flowy singletrack, and hills that will get your heart pumping even on an e-bike. Since this is a shuttled ride, most people who visit Downieville choose to do the descent two or more times in one day. Book shuttles with Yuba Expeditions in Downieville. You can also explore other nearby trails like Gold Valley Rim, Big Boulder, or Third Divide, all of which are also great e-bike trails. Please note that the full Downieville Downhill is not suitable for beginners. If you're looking for a beginner-friendly trail near Downieville, consider doing the Mt. Hough trail.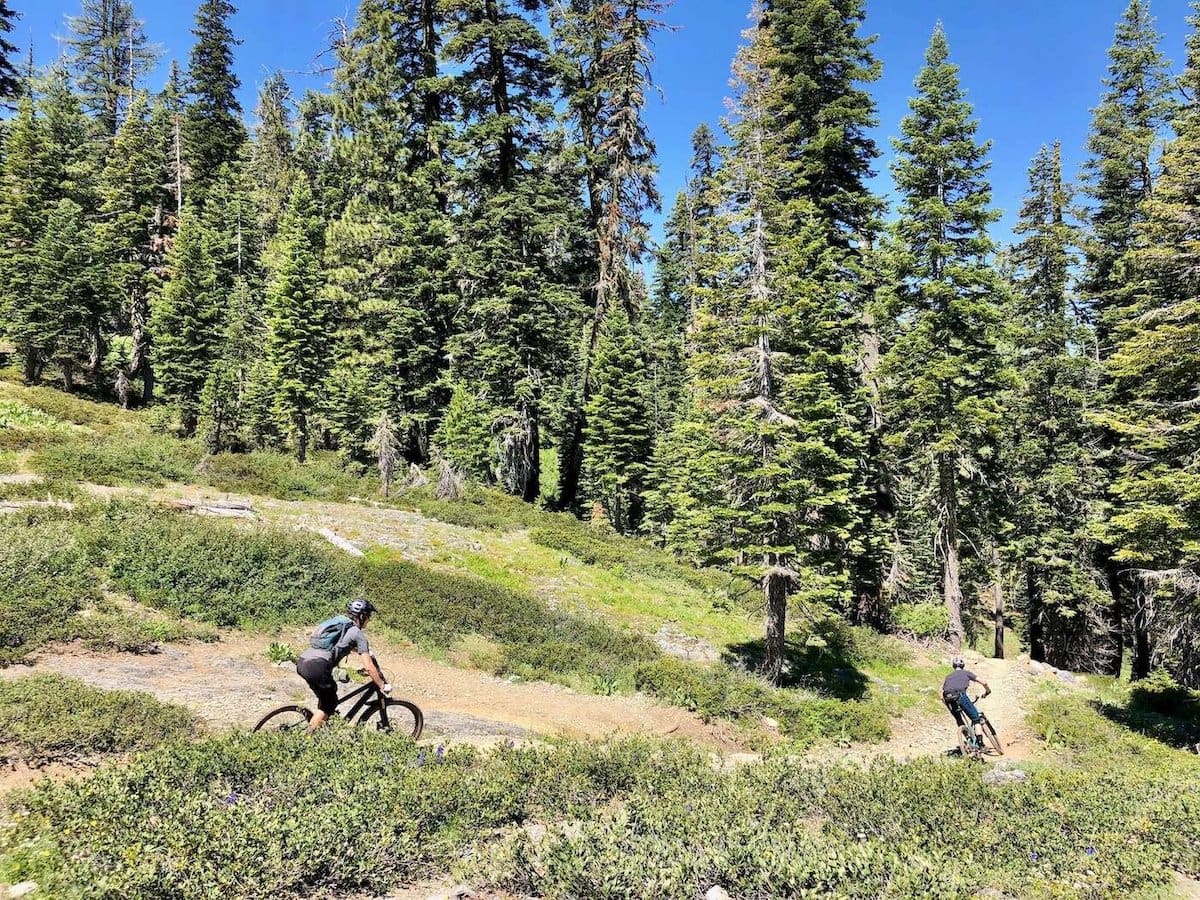 7. Mt. Hough, California
Mt. Hough (pronounced 'huff') is located in Quincy, California about an hour and a half from Downieville. The main descent down the mountain is the Mt. Hough trail, a 10-mile descent with fast flow and virtually no rocks or technical sections. It's one of my favorite trails in the area because it's so well-built for mountain bikers. There are a few small climbs to put your e-bike to work, but it's mostly a fun descent and a great choice for beginner mountain bikers or families with small kids. The Mt. Hough trail is best shuttled and you can book a spot with Yuba Expeditions in Quincy. It takes about an hour to get up to the top of Mt. Hough in the shuttle.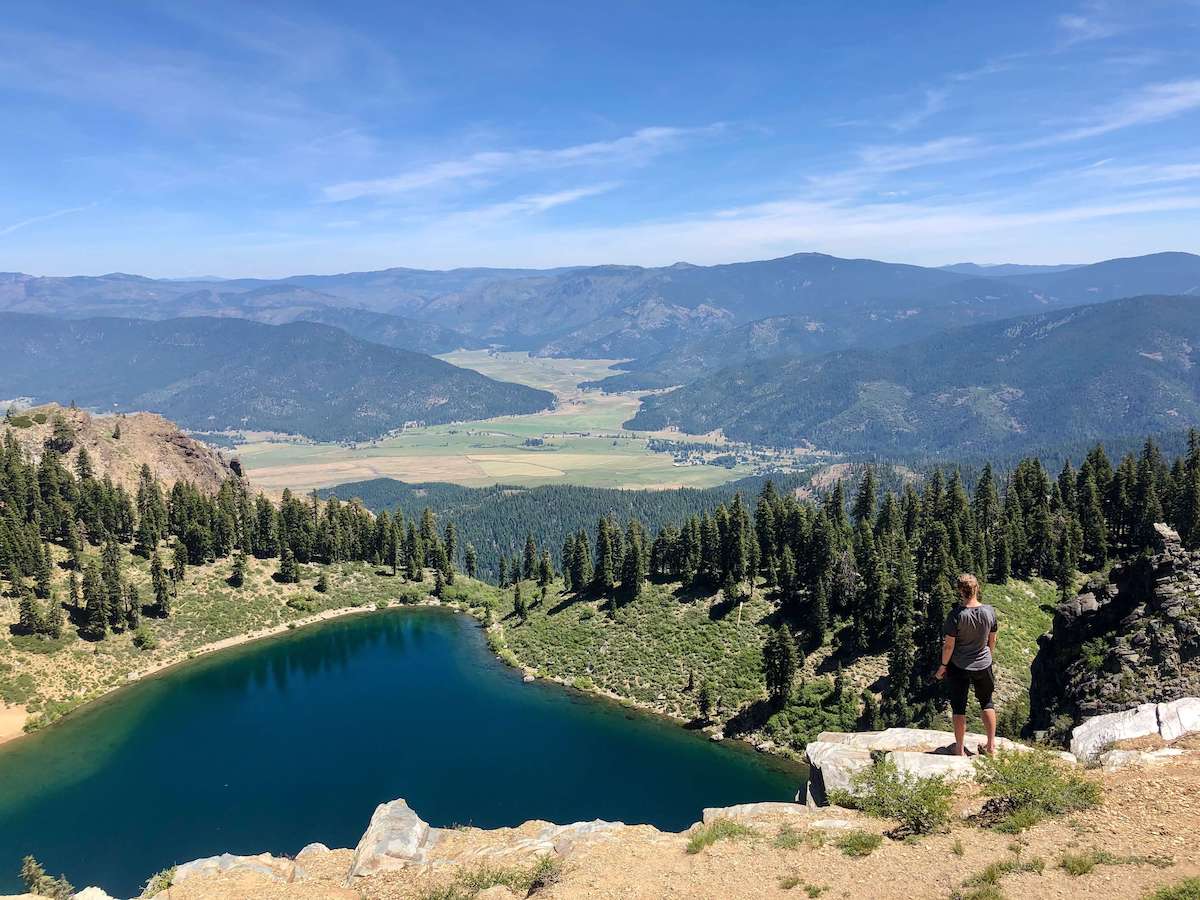 Whether you're just getting into mountain biking or it's your first venture out on your e-bike, I hope this blog post inspires you to check out these amazing e-bike trails.
Do you have any favorite e-bike trails or places to ride not listed above? Let us know in the comments below!
The post 7 Best E-Bike Friendly Trails & Trail Networks in the U.S. appeared first on Bearfoot Theory.