If you love traveling and spending time outside and also enjoy riding bikes, bike touring might just be a match made in heaven for you. Bike touring allows adventurers to explore farther than you can on foot as well as carry a few more comfort items. Like other outdoor pursuits, though, preparation goes a long way. Finding the right bike touring gear and set-up is an essential part of the process and will help you make the most of your trip.
A few summers ago, Bearfoot Theory's Director Linda traveled the coast of France by bicycle for two weeks with her husband. In this blog post, she shares her tips for prepping for your first bike touring adventure and lessons learned from her trip.
---
Bike Touring vs Bikepacking
A big question among outdoor adventurers is what's the difference between bike touring and bikepacking?
Bike touring
Bike Touring routes typically follow paved or gravel roads or bike paths
Bike touring bikes are usually fully rigid and designed to carry heavy bags and panniers
Bike touring often involves biking from hotel to hotel rather than camping
Bikepacking
Bikepacking routes can be on any type of trail or road surface, but are more commonly singletrack trails or rugged and remote roads
Bikepacking bikes typically have front and/or rear suspension and wider tires to handle rougher terrain
Bikepackers are self-sufficient and usually camp at night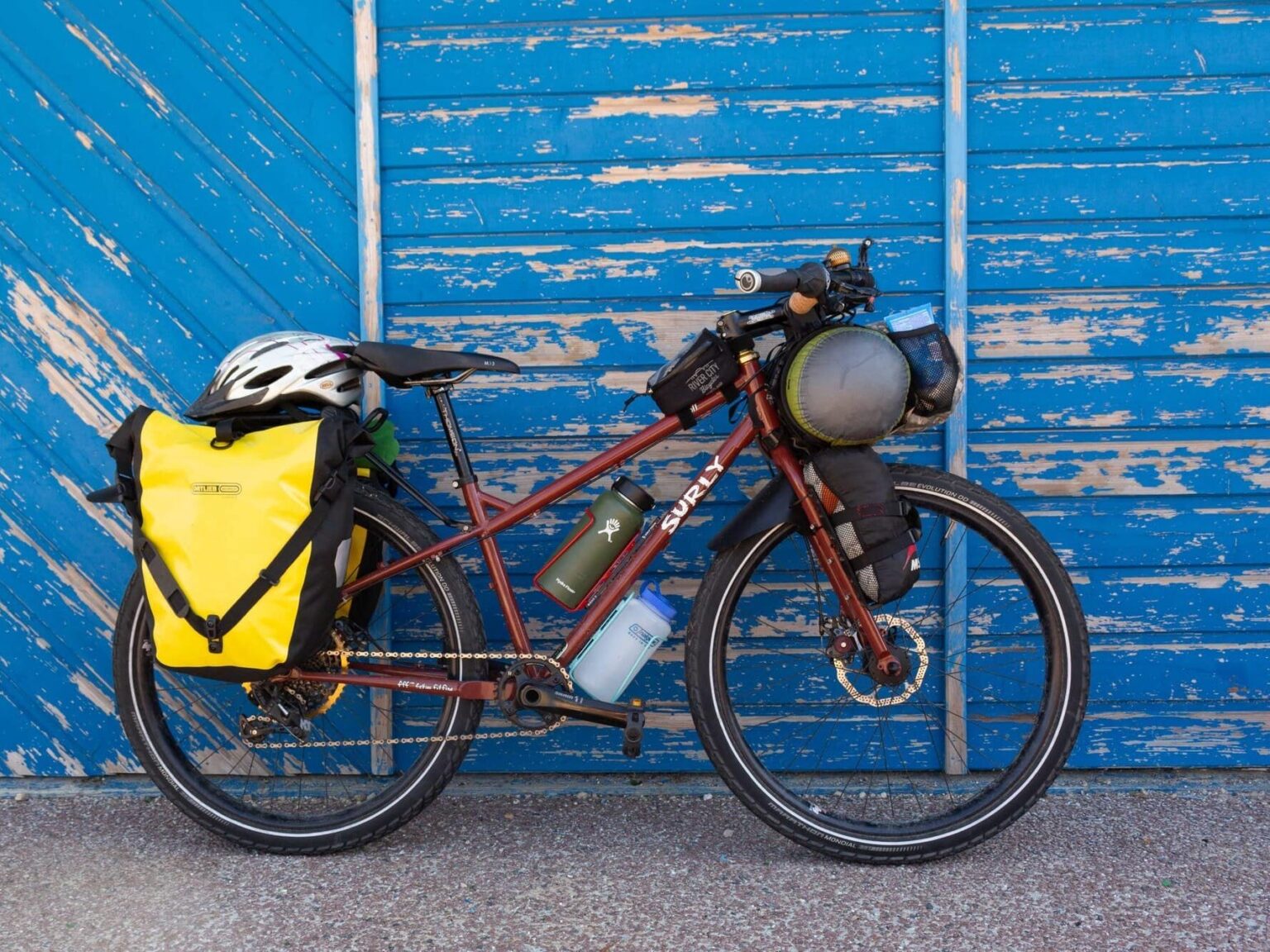 ---
What Makes a Good Touring Bike?
Touring bikes are specifically designed for long-distance, weight-bearing riding. There are lots of options available on the market for touring bikes and the right bike for you will depend on what type of bike touring you'll be doing.
Think about whether you'll be riding primarily on paved roads or whether you want the flexibility to ride on dirt, gravel, and other surfaces. There's no one right answer, so be sure to take your time to do research before choosing the best bike touring bike for you.
Here are a few factors to consider when comparing bike options: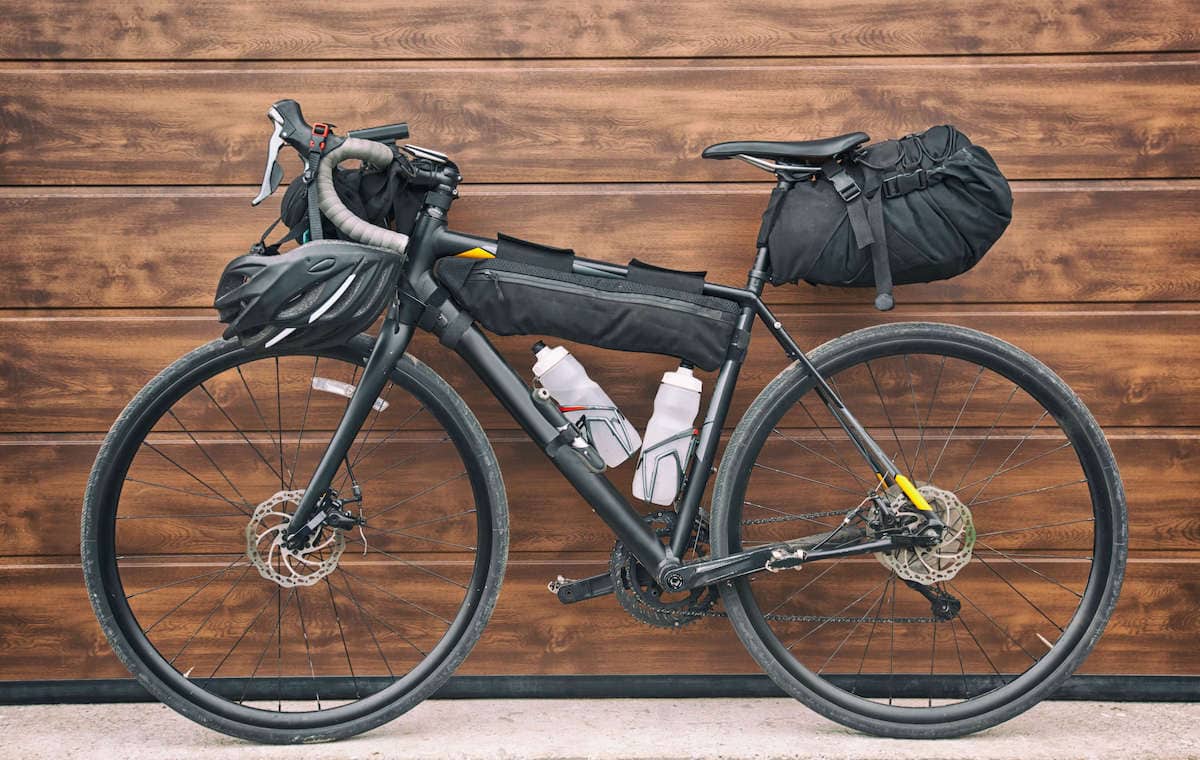 Longer wheelbase
Touring bikes tend to have longer wheelbases than road bikes, which provides more stability while carrying a heavy load and more comfort when spending long days in the saddle.
The wheelbase is the distance between the front wheel hub and the rear wheel hub.
Number of spokes
In general, the more spokes a wheel has, the stronger it will be. Touring bikes are typically equipped with at least 32-spoke rims so that they can handle the extra weight.
Tire width
Road touring bikes will come with narrower tires for faster, smoother riding on pavement. If you want to deviate from paved roads to dirt, a wider tire with more grip is your best bet.
However, keep in mind that tires can be swapped out easily, so if you want a truly versatile touring bike, choose one with a front fork and rims that can accommodate a range of tire widths.
Attachment points
Touring bikes come with a number of attachment points called braze-ons for racks, bags, fenders, and multiple water bottle cages. Braze-ons make it easy to load touring bikes with gear.
Frame material
There are three main materials used for touring bike frames: carbon, aluminum, and steel.
Carbon is the lightest of these materials and can shave off a few pounds. However, it's also more expensive and very sensitive to abrasion from straps and other pieces of gear that rub against the frame. If you choose a carbon bike, be sure to apply frame protection to prevent abrasion.
Aluminum is a bit heavier than carbon but can take more use and abuse. Aluminum bikes are also usually less expensive.
Steel bikes are very popular among bike tourers because they tend to be more comfortable to pedal long distances on. The metal absorbs impact better, making for a smoother ride. Steel is also much stronger than both aluminum and carbon. The downside of steel is that bike brand/model options are more limited.
If you don't want to do a ton of research or piece a bike together on your own, visit your local bike shop and see if they can help you out. A good bike shop will have experienced staff members that can answer questions about bike touring and help you find the right bike touring gear.
While choosing the best bike touring bike for your needs and adventures is very personal, here are two great options to consider:
Best for pavement
Surly Disc Trucker
Surly has long been a favorite for long-distance bike touring and their Trucker bike is a classic. Built for comfort and stability when loaded, the Trucker has a cult following for a reason.
Where to Shop
Best for gravel
Salsa Journeyer
Designed with a gravel bike look and feel, the Salsa Journeyer is a great option if you plan on hitting the dirt. It's also designed for long-distance riding and comes with plenty of attachment options for gear.
Where to Shop
---
Bike Touring Gear Essentials
Your bike touring bike will be the biggest decision and purchase you make, but you'll need to consider these additional bike touring gear essentials:
Bike touring tires
Good quality tires are key for a smooth ride. For bike touring, you want a tire with high durability and puncture resistance to minimize your chances of having issues while you're on the road. I highly recommend tubeless tires (tires that have sealant inside of them instead of an inner tube). Tubeless tires drastically reduce the risk of getting flats.
As a rule of thumb, a wider tire generally makes for a more comfortable and versatile ride. A little bit of grip is helpful too so you can handle gravel and other off-road surfaces you might encounter. On the other hand, more volume and more grip mean a slower ride, so you want to find a balance that works for you.
Schwalbe Marathon Mondial tires are arguably the most used, most proven, and best all-around touring tire and the ones I used when bike touring in Europe. The Surly ExtraTerrestrial tire is another great choice and is what Becky, our behind-the-scenes assistant, used on her Cross-Washington bikepacking trip.
Fenders & Cargo Racks
Fenders are good to have for any bike touring excursion, especially if you anticipate rain or wet weather. They help prevent dirt, mud, and water from splashing up onto you. Some touring bikes have fender attachments, but others do not. Before buying a fender, be sure to check whether it will work with your bike.
Bike racks allow you to attach panniers and other gear onto your bike. You can choose to put front racks, back racks, or both on your bike depending on your desired setup. Again, all bikes are different, so before you buy a bike rack, make sure it will work with your bike.
Bicycle Panniers & Touring Bags
With the explosion in popularity of bike touring and bikepacking over the last decade or so, there are a ton of bike touring and bikepacking bag options out there. The key things to consider are the overall volume you need to carry all your stuff as well as waterproofness, organization, and being able to spread out the weight across the bike.
Panniers
Ortlieb is one of the most popular and proven pannier and bike bag brands. Their bags are completely waterproof and very durable. I brought a set of rear Ortlieb panniers to Europe and loved how durable and waterproof they are and how much space they provide.
However, one thing these bags don't have is multiple pockets so I often found myself digging around and having to pull a bunch of stuff out to find the one thing I was looking for. I made up for this by having a drawstring bag for small things like underwear, socks, etc, and a bag for toiletries. Packing cubes would be perfect for this as well. Believe me, it will be worth the time and frustration you'll save when you're trying to find something while on the road!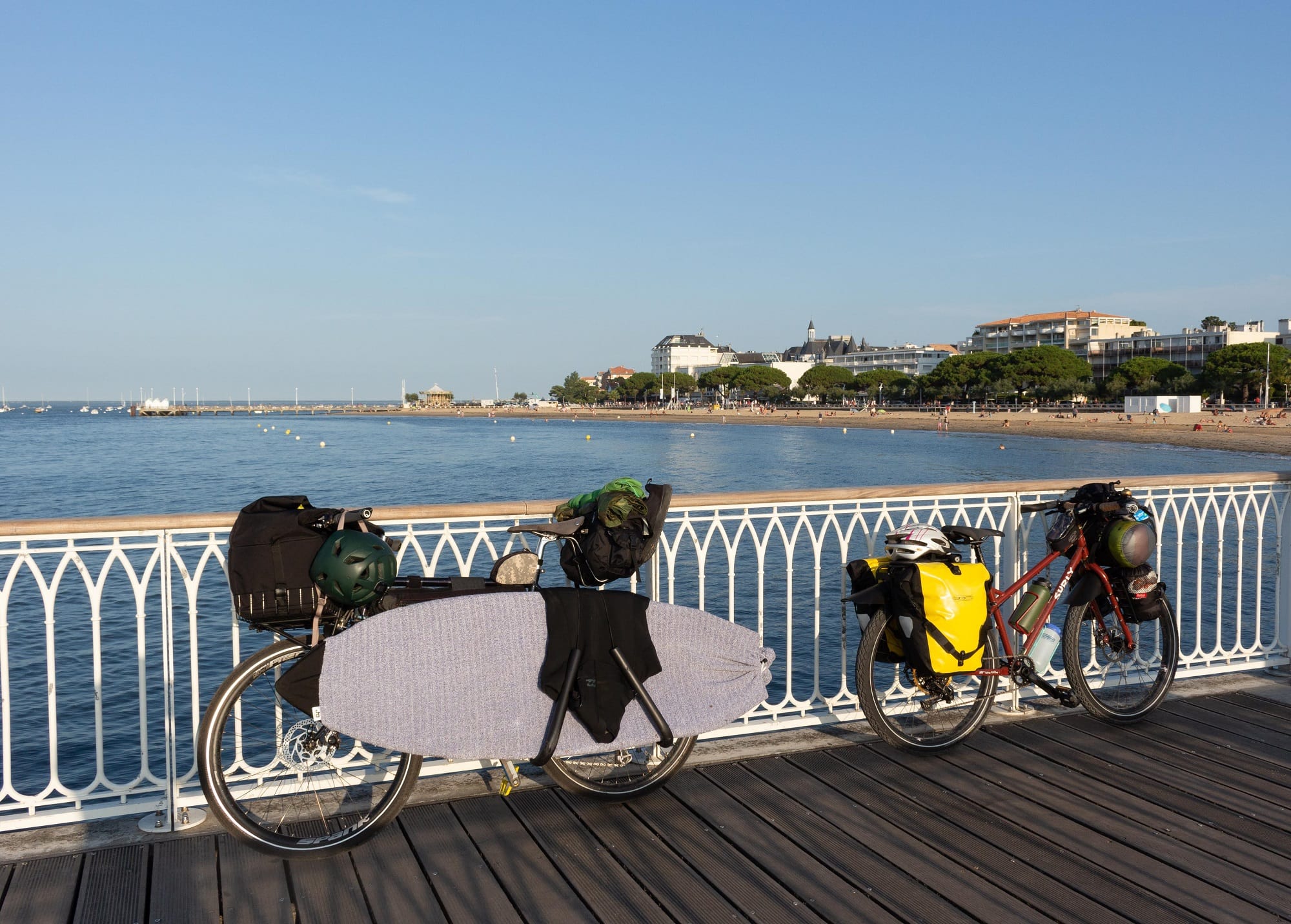 Frame Bags
Frame bags fit within the triangle frame of your bike so they're a great use of space while still keeping your bike slender. There are different sizes available so you need to measure your frame and search for one that fits. Alternatively, some companies like Rogue Panda make custom frame bags for your specific bike.
One thing to take into consideration here is whether you want to leave space for a water bottle cage within the frame. If you do, then you'll need to get a half-frame bag instead of a full-frame bag.
Here are three great frame bags to consider:
Additional Touring Bags
There are a number of other touring bike bag options depending on how much gear you need to carry and how you want to distribute the weight. Handlebar rolls are great for carrying lightweight gear like sleeping bags and down jackets while Seatpost bags are great for clothes and toiletries.
Here are a few additional touring bag options:
Bike touring saddles
Saddle comfort really varies from person to person based on your body geometry and what's comfortable for you. But finding a comfortable seat is absolutely key to having a happy ride, especially when you're spending hours each day on your bike.
Many avid long-distance bike riders swear by Brooks Saddles. They are ergonomically designed to give and flex with your body movement plus they're durable and long-lasting. For me personally, they were just too hard. I opted for a slightly cushier saddle and was happy I did. Some say that cushier seats allow for more movement which can cause friction and resulting irritation, but I didn't experience that. The saddle I used is no longer available, but the Terry Century Butterfly saddle is similar and designed for long rides.
Bike seats often come in different sizes based on the distance between your sit bones (also known as your ischial variation) and what type of riding you do (athletic, moderate, or relaxed). Your local bike shop should be able to help you find the right size seat for your body and may even have seats you can test out before buying.
---
Gear & Clothing for Bike Touring
Camping gear for bike touring
For bike touring camping gear, think backpacking gear but on a bicycle. You can afford to carry a little more weight than you would backpacking but keeping your weight low makes everything all around easier.
Depending on where your bike touring adventures take you, you might be getting on and off trains or buses and possibly going up and down stairs, so keep your packing to the essentials (plus, that way you'll have room for a bottle of wine or a souvenir or two).
Here are some of the basics you'll need for camping while bike touring:
Bike Touring Clothing
When packing for a bike touring trip, you'll want to bring lots of layers and versatile pieces that work together. Again, think backpacking plus a little more wiggle room. Keep in mind that you can wash clothing by hand and in many places, it's easy to find laundromats so you can re-wear what you bring. In Europe, every single campground we stayed at had sinks for hand washing laundry, and most had coin-operated washers and dryers.
While bike touring, you'll likely stop for lunch, do some sightseeing, and be getting on and off your bike to do things in general so it's nice to be comfortable in what you're wearing on and off your bike.
Here is a list of recommended clothing for bike touring:
Miscellaneous Bike Touring Gear
Bike Touring Repair Tool Kit
When bike touring, you'll likely ride some long stretches between towns so you'll need to be prepared to deal with a flat tire or two just in case. While most towns have bike shops that can help you with a tune-up, being prepared can save you from a very frustrating time when you're out on your own.
For tools and spares, at the minimum, you'll want to bring the following:
---
Do you have any questions about specific bike touring gear? Or have you been on a bike touring trip and have something to add? Let us know in the comments below!
The post The Ultimate Bike Touring Gear Guide for Women appeared first on Bearfoot Theory.